Crossword Puzzles!

Take your passion for crosswords around the world with Crossword Puzzles!
Play a FREE puzzle every day as you tour breathtaking locations around the world. Thousands more puzzles and dozens of destinations await you on your tour.
"This is the most beautiful crossword app I've ever seen!"

Features:
Dozens of high-definition images of beautiful travel destinations
Free daily puzzles, and thousands more for all skill levels
Hints, in case you get stuck
Check your work or see the solution
Supports both Portrait and Landscape orientations (Portrait on iPhone)
Thanks for playing!

All Mixed Up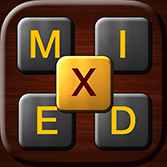 "All Mixed Up!" is not your average word scramble game! Can you find the surprise answer to the provided clue? Unscramble words to build up the letters you will need to solve the puzzle. Along the way perhaps you can answer questions such as what is required to make an omelet? Or where should one never throw stones? Or what do you call a control freak?

You'll challenge your brain unscrambling words and have a lot of fun along the way!